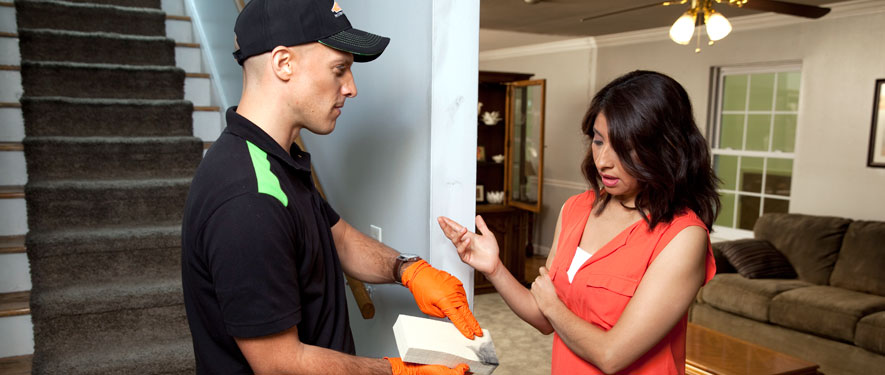 Ceiling, Floor, and Wall Cleaning
Ceilings and Walls
Ceilings and Walls
SERVPRO of Sherman/Denison specializes in Ceilings, Walls and floor cleaning. Walls can be discolored due to nicotine, cooking, and soot to name a few.
When cleaning a wall that has been damaged by nicotine the preferred method would be wet cleaning if the painted surface is gloss and to use product number 351 Wall cleaner. This is done with folded white towels that are dampened in the bucket with our product and then hand cleaned. This method will remove the nicotine and the wall will be cleaned and ready for paint if desired.
The second method would be dry sponges these work best when used on a flat painted surface and if there has not been another product used on the affected area. Either method will clean your walls or ceilings.
Call our office, we can come out and look at your problem area and work up an estimate for you.
Need Professional Cleaning? Call Today (903) 893-7166
Hard Floors
Hard flooring, like hardwood and tile, is often used in today's homes and commercial properties. At first glance, hard flooring appears to be easy to clean, maintain, and restore. However, these materials tend to have soil accumulate over time, and eventually you'll need professional cleaning to remove this buildup.
We have specialized training in time-tested and industry-approved cleaning methods. Also, our proprietary cleaning system allows our Professionals to properly clean and restore your floor's original beauty.