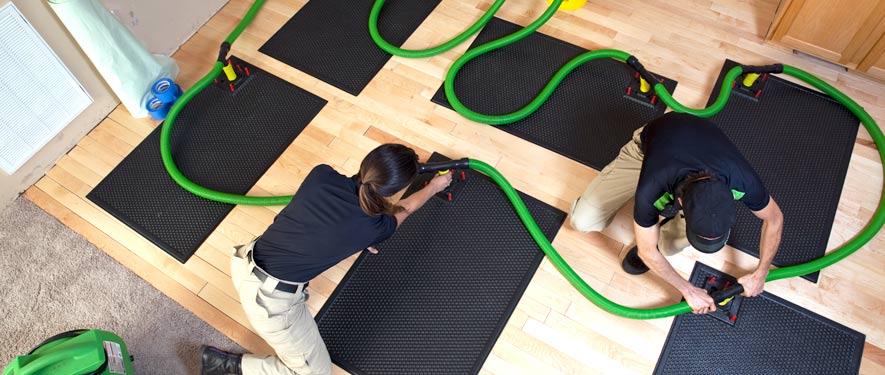 Step 4: Drying and Dehumidification
Our Water Damage Restoration Process
Once we have completed our extraction process it may appear at first glace that everything is dry but in reality your drywall and flooring have absorbed quite a bit of that moisture. If you were to place your hand on the drywall you would be able to feel that trapped moisture and in some cases if you were to press too hard on the drywall you could leave an indention of your hand behind. Because most building materials are porous this allows them to retain the moisture they have absorbed. Retained moisture can cause these materials to deteriorate and could possibly cause mold to grow.
Drying / Dehumidification
Our Professionals will use room measurements, temperature, and relative humidity to determine the optimal number of air movers and dehumidifiers to dry your home or business. We'll carefully monitor the progress using moisture meters until the materials return to acceptable drying goals.
Use Dehumidification Equipment
Use Monitoring Equipment to Track Progress
Monitor Floor and Walls
We check the moisture levels to monitor the drying process. 
Monitor Floors
Monitor Walls
Drying Equipment
Industrial-grade dehumidifiers help prevent secondary water damage like swelling and warping of floors, walls, and furniture.
High-speed air movers create airflow across walls, carpets, pads, and furniture, which accelerates the evaporation of moisture.